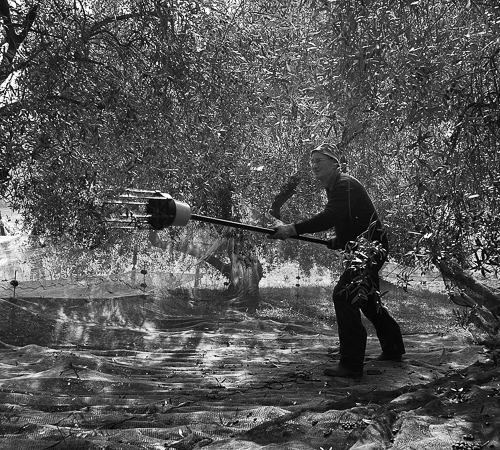 The Pieri farm was founded in the 1830s and has been owned by the same family ever since. It is located in a lovely area stretching from near the Adriatic sea to a height of about 300 metres above sea level. We were shown around the farm by the present owner, Luigi Pieri. First we were shown their bakery where a young woman was making biscuits manually. Actually, biscuits, bread and jam are made by hand in this place, 2-3000 items annually.
Next, we went to their wine cellar where were treated to a glass of their excellent Merlot wine straight from a storage tank. We also passed their vineyards before arriving at their olive grove where one of his employees was picking olives by means of a machine powered by a car battery. Having first put a net on the ground below the trees, he let the rotating blades of the machine touch the branches of the trees, bringing down the olives.
The vines
The grapes mature at different times and the harvest, which is done manually, is carried out in the following order:
Merlot
Syrah
Montepulciano
Sangiovese
The wines
The following wines are produced at this farm:
Rosso del Poggio
Rosso Conero Pieri Bottiglia Toscanello
Rosso Conero Pieri Bottiglia Bordolese
Rosso Conero Pieri Bottiglia Futura
Academus
The olives
The following types of olive trees are cultivated:
frantoio – 80%
leccino – 10%
pendolino – 10%
Some of the characteristics of the olives are the following:
frantoio – large size, fruity, rather strong aftertaste
leccino – round shape, mild sweet flavour
pendolino – small size
Since the olives aren't able to pollinate themselves, the olive trees are mixed such that different types of olive trees are planted next to each other making bees able to pollinate them.
The olive trees are grafted onto other specimens in order to grow well at a nursery in San Benedetto where they are sold when they have reached 3 years of age. The olive trees become productive after 12-13 years, that is, when a tree is capable of producing at least 20 kg of olives.
Copper is used in order to limit fungous infections. As regards the olive fruit fly, which deposits eggs inside the olives, an insecticide called Rogor is used, a product which is not soluble in fat, hence it will disappear together with water and the olive residues during production of olive oil.
Olive trees are very hardy, drought-, disease- and fire-resistant and they are well adapted to the Mediterranean climate.
The extension of the area set aside for the olive trees is 4.5 hectares.
Other products
The following products are also produced:
Cereals:
Legumes:
chickpea
lentil
grass pea
Fruits:
peach
fig
jujube
tomato
pumpkin