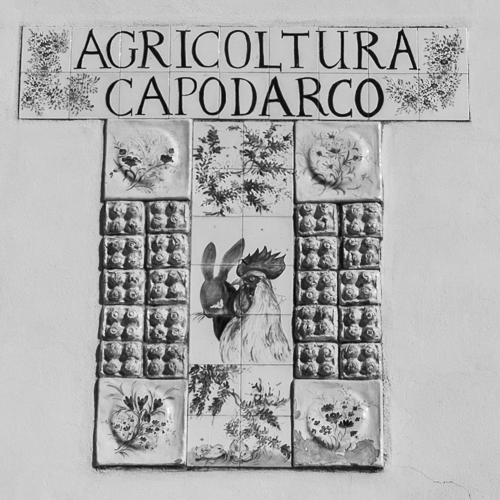 Having arrived at Colonna, where one part of Capodarco Agriculture is situated, at 7 in the morning. Roberto, a man in his fifties, willingly showed us around their farm.
Apart from occasionally talking to some of the workers, he gave us his full attention, showing us their plastic greenhouses where two workers were cutting salads manually, the fields were they were growing vegetables like artichokes and strawberries which were cultivated both in greenhouses and outside.
We were also shown their olive grove where large mounds of compost had been transported. The compost had been obtained from their own fields, from pruning of their vines and olive trees and so on.
Since Capodarco Agriculture is located at both Colonna and Grottaferrata, we had to drive round Frascati in order to reach their "headquarters" at Grottaferrata. Having passed more or less urban areas for some time, it was really nice to come to a well-tended farm, being met by a group of donkeys at the parking space. Being shown around by Roberto again, we were also shown their goats, ducks and rabbits, besides their large flock of free-ranging chickens.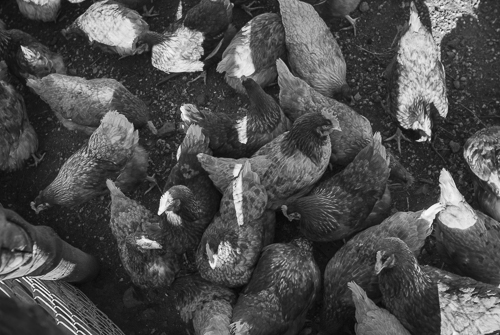 In addition to some office space, they have a large restaurant, which was originally a stable. The restaurant's kitchen is based on three fundamental principles: maintaining local traditions, serving fruits and vegs in accordance with their growing seasons, and selecting products of prime quality. In addition to serving a wide selection of vegetables and fruits, they also have a variety of meat courses served with their own wines. Moreover, they are preparing typical desserts from the Castelli Romani, the area where Capodarco Agriculture is placed.
A well-furnished farm shop located next to the restaurant is selling the cooperative's own organic products together with the same from local farmers.
According to their web site, Capodarco cooperative has the following main activities:
cultivation of vegetables, vines and olives
marketing and distributing organic products
restaurant,catering and organizing events
practicing social farming
Social farming enables disadvantaged people, like ethnic minorities, ex-convicts, former drug addicts, disabled people (especially mentally deficient) and so on, to do meaningful work. Being in contact with the farmers and their plants and animals together with being given and entrusted specific responsibilities are certainly enriching their lives.
Last, but not least, it should be mentioned that the cooperative is also raising bees, having about 200 beehives spread around the Castelli Romani. The honey obtained from the bees is sold without adding preservatives or any other substances.