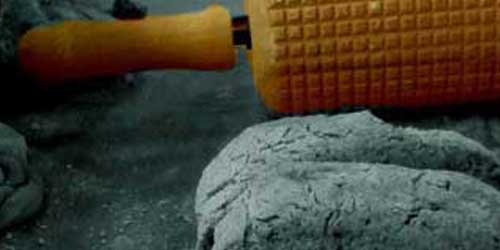 Øverland Community Garden and Slow Food Asker and Bærum arranged an event drawing attention to organic food. The last weekend in November 2010 was filled with practical courses, films, photo exhibition, organic lunch, cakes made in accordance with raw food guidelines together with fine talks at the Waldorf school in Bærum near Oslo.
Three practical courses were held on Saturday 27 November, first raw milk, followed by lactic acid fermentation and finishing with baking using old types of grain.
Raw food
Raw food was the last and most trendy type of food in 2010. The cafe Helt Rå (meaning completely raw) in Sandvika, 10 km east of Oslo, is an example. Celebrities like Lady Gaga and our own Princess Märtha were among their customers the first week after the opening. Raw food is food which has not been heated above 40?C, and it consists mainly of whole grains, nuts and vegetables. Raw food enthusiasts claim that doing traditional cooking leads that up to 80% of the nutrients are lost due to the heat. Consequently, the rather careful heat treatment of raw food.
Lactic acid fermentation
Lactic acid fermentation is an old method of conservation for conserving vegetables. A diverse selection of vegetables is cut up into small pieces and put into a jar where they are compressed. After having filled up most of the jar, salt water is poured over the vegetables until it covers everything inside the jar. Keeping the jar at room temperature, fermentation will start and continue until the ambient temperature is lowered to about 4?C, like in a fridge. The jars used at the course were quite large, 8 -10 litres(?), and they can be ordered from hjemmeproduktion.dk, which has a large selection of utilities for making food.
Baking course
The bakery course was arranged by Kristin og Johan Swärd who brought along grains like emmer, einkorn wheat, rye and barley from the farm Aschim Vestre on Hadeland north of the town Hønefoss. They are cultivating their grains organically and biodynamically. The next day we were informed by Kristian Ormset from the soil and plant analysis company Vital Analyse that the grains grown by the Swärd family had the best quality of all grains he had tested. His analysis showed that their grains were full of vitamins and antioxidants. After having prepared the dough on a Saturday, it was left for raising overnight such that breads could be finished for lunch the next day.
Speeches
On Sunday, nearly 70 participants could listen to discourses which were performed simultaneously in adjacent rooms. After a short introduction by Jolien Perotti, the leader of Øverland CSA, and Per Chr. Bakken, the leader of Slow Food Asker og Bærum, we could listen to Linda Jolly who told us about the story of agriculture, while also encouraging the audience to contribute their thoughts on the deficiencies of modern agriculture, Astri Riddervold, an ethnologist in her eighties, who talked about food conservation followed by Kristian Ormset from Vital Analyse who talked about the quality of the soil and showed us microscope photos of slices of grain and vegetables cultivated both conventionally, oganically and biodynamically. His conclusion was that especially biodynamically, and to a certain extent, organically grown grain and vegetables are more nutritious than conventionally grown ones, but only if the farmer is cultivating the harvest correctly. In extreme cases, organically grown plants may be less nutritious than conventionally grown ones.
After having listened to experts from outside Øverland CSA and Slow Food, some of our "homegrown" experts shared their knowledge on composting, leftovers, beekeeping and organic agriculture.
However, this event would not have been so great without the delicious vegetable soups made of organic pumpkins, onions and diverse vegetables together with a Thai soup with the same ingredients as the former, but also with coconut milk and curry. Homemade bread together with organic butter and sour cream from Røros dairy contributed to a delicious and nutritious meal. The last coffee break was enriched with a large selection of raw food, being quite tasty and diverse.