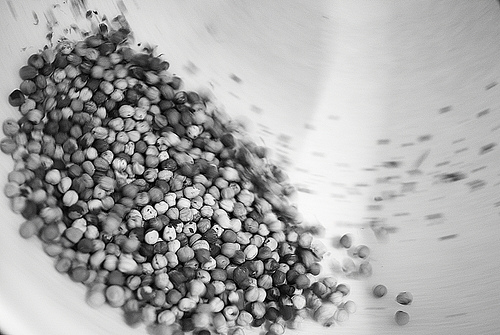 Turin's request for being considered as a "the capital of chocolate" is derived from a tradition dating from the early 1600s. During the Napoleonic wars, a naval blockade in the Mediterranean impeded the import of cocoa beans to Italy and, being the main ingredient of chocolate, the production of chocolate. Fortunately, a certain Michele Prochet had a brilliant idea: mix chocolate with hazel nuts. In the beginning, the finished product was called givu in Piemontese, meaning stub because of its cylindrical shape.The first gianduiotto (literally, a small gianduja, which is pronounced jan-doo-yah) was presented at Carnival, in the shape of an upturned boat of the carnival mask.
A gianduja of prime quality contains very little sugar, instead its taste is given by a mix of chocolate and hazel nuts. A real gianduja is produced only by using the hazel nuts called Tonda Gentile, which are only cultivated in the Langhe area in Piemonte, incidentally the same as where the Truffa confectionery is located. In order to transform the hazel nuts into an ingredient in a gianduja, they have to be toasted slowly and be turned around continuously. Doing it this way, the outer shell will not be burned at the same time as the core is being toasted.
The confectionery of Eugenio Truffa has been in Bossolasco, the village of roses, for 25 years. He's a real craftsman, who loves his work. Having arrived at his premises without any appointment, he welcomed us warmly. Waiting for an appropriate moment, that is when the pastry shop wasn't full of customers, my guide went up to him, presented us and asked him about his work. After a short chat, he invited us to join him in his confectionery upstairs where he proudly showed us the machines he and his workers are using together with a big clump of 25 year old yeast, probably a sourdough starter. Understanding why he's famous for his pastries was quite easy: if his products had a quality corresponding to a half of the love and passion he showed when presenting his products to us, they would still have been excellent. Having finished the theoretical part, we turned to the tasty part consisting of enjoying the taste of mixed fruits mixed with dark chocolate. We could also admire a phone made of chocolate, taste the "Smiles of Bossolasco" and the "Gera ed Belb", a real feast for the eyes (together with our taste buds). We could also gaze at a wide selection of jams, Turkish delights and ice cream. Treats not to be missed.
All the products are based on traditional, mostly Piemontese recipes where Eugenio mixes natural materials of optimum quality without adding preservatives or chemicals. Unfortunately, we had to let Signor Truffa in peace, and having thanked him again, we left the pastry shop unwillingly.
The village of Bossolasco is located off the beaten track. In order to get there, drive south from Alba towards the sea where you will ascend the hilly terrain of Medialanga. It takes about 20 minutes, but it's really worth it. In addition to being able to eat delicious sweets, you can admire breathtaking panoramic views and lovely scenery, another reason for going to Bossolasco.