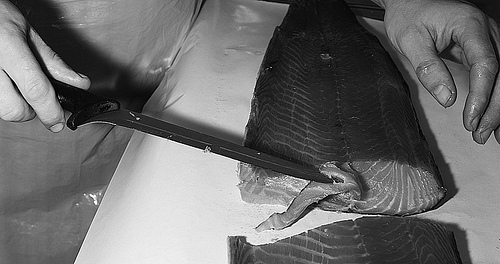 Although small, family-owned shops are rapidly disappearing in Norway, some die-hard souls refuse to give up. The married couple Liv Seppelæ and Kjell Jensvoll are running a fishmonger's at Haslum in Bærum west of Oslo. A pleasant talk about food in addition to advice and tips on how to cook the fish and/or sea food is included in the price.
If you are lucky enough to live nearby a fishmongers, you will know how incredibly tasty and moist, fresh fish can be. If you normally walk down to your local supermarket, or you order food online while you look up recipes, you are sure to notice a difference if you visit a fishmongers instead. Many people will agree that the quality, taste and freshness of a fish bought from a fishmonger, is much better than a supermarket's selection. In addition, you are helping a family run, local business, which often have a warm and friendly atmosphere.
Opening hours: Tuesday to Friday from 10 a.m. to 5.30 p.m., Saturday from 10 a.m. to 3.30 p.m.
Kjell Jensvoll spent several years selling fish from a wagon at the Esso petrol station located across the road from the present shop. However, he moved inside a shop 5 years ago whose address is Kirkeveien 69b. Being a fishmonger is definitely not a 9 to 5 job when fresh fish of prime quality has to be offered daily. Liv and Kjell leave home about 5.30 in the morning and go by car from Drøbak to the Fish Hall in Oslo. Ordering a certain quantity of fish and seafood in advance, they first control the wares, then they go to Haslum where their shop has to be prepared for the newest products. After having closed the shop at 5 p.m., everything has to be cleaned before they can start going home. Accordingly, they usually arrive around 7 p.m. at home meaning quite long days.
We went to the fishmonger's early in the morning when both Liv and Kjell were busy preparing their wares for their customers, bringing fish from their car inside and putting it in the counter until it was filled with fish and other types of seafood.
What are the characteristics of a fresh fish, I asked Kjell. The eyes, the gills, firmness and freshness, was the precise reply from Kjell speaking in a typical northern Norwegian accent. He picked up a fish, pointing at parts of the fish. The eyes should look clear and not be swollen, the gills shall be red and look fresh, and if you press your finger against its body, there shall not remain a depression when you remove it. In other words, it shall be firm and have a smell of sea.
Liv tells enthusiastically about baking a whole piece of an angler or sea-devil in the oven, a fillet combined with bacon at 200°C for 40 minutes. The favourite fish of Kjell is called cusk, which is a cod-like fish. Applying a mixture of wheat flour, salt and pepper to the pieces of fish before baking and adding carrot and orange afterwards, turns Kjell into a happy man. Knowledge about fish in particular and cooking in general seemed to be second nature to the pleasant couple.
Seagull's eggs, oysters, smoked salmon, rose fish or red perch, wolffish, blue mussels, shrimps, crab's shells and so on were placed easily visible in the counter, making the shop ready for the customers.
If I should include a recipe in the article about you, what would you recommend, I asked Liv. How about whale meat, whose season ranges from now to the end of August, she replied. I couldn't agree more. I really had to add that it's the world's best steak. Cut it into pieces with a thickness of 1-1.5 cm, fry it for less than 30 seconds on each side before putting them into an oven at 200°C. Bake the meat until the temperture inside the meat has increased to 65°C. Delicious, Liv told me.
Afterwards, we went outside to the rain this early morning in June. Being active members of Slow Food, it warmed our hearts to meet enthusiasts like Liv and Kjell. They have a wide knowledge of fish, know where it comes from, how to preserve and  prepare it. Knowledge which they willingly share with their customers.