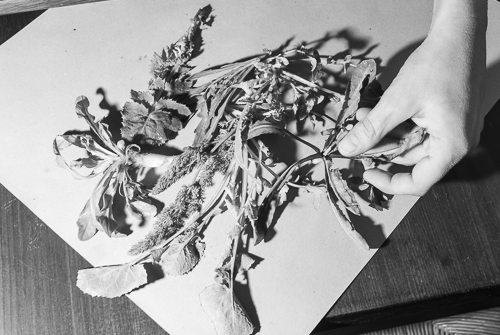 We arrived at the La volpe all'uva restaurant at about 4 in the afternoon in order to have the restaurant for ourselves. The family-driven restaurant makes courses based on local ingredients only. Besides, their wines only originate from their own region, Lazio.
Tizina Scioni, a young, pretty woman, gave us a demonstration on how she prepared herbs for a meal. Since their kitchen was quite small, she obligingly brought a wooden board into the restaurant together with a large selection of herbs which she and her family had collected in the countryside near Frascati.
After having selected the herbs one at a time, she put them on a plate. Then, she cut up garlic in small pieces before crushing and grinding them with a mortar and pestle. Adding sardines, olive oil and vinegar and using a spoon to put the mixture on top of the herbs and adding radishes resulted in a delicious starter.
Then, she made a couple of rolls of bacon,which, after having pierced both rolls with wooden pins, she put into a frying pan after first having added cooking oil. Turning on the gas flame and adding brandy, made it catch fire. Thus, using simple ingredients and "simple" cooking, another delicious meal had been created during a few minutes.
A mix of sheep's cheese and ham flavoured by squeezing a lemon above the ham together with jam, bread and wine, was also delicious.
The name of the restaurant is taken from one of Aesop's fables called The Fox and the Grapes. A society of the same name has been founded in Frascati for those who are interested in the arts, food and wine.
Since this restaurant is quite small and popular among the locals, you have to order a table in advance. In addition to serving "ordinary" customers, they are perfectly willing to serve groups and clubs who want something special. Since it is located away from the historic centre of the town, very few tourists arrive there. Please remember that it's closed on Mondays.
In addition to exhibiting arts and crafts in their premises, concerts are also arranged occasionally. A poster titled "music food design" showed that the acoustic duo Funkamilla would be performing at the restaurant on the nearest Friday evening, while gandaue design was responsible for the interior of the restaurant.
Besides, magazines and books covering the history of Frascati and its surroundings are also readily available for all customers. Thus, customers are treated to excellent meals served with fine, local wines, being surrounded by objects which are pleasing to the eye. Briefly, the Scioni family want their customers to have both a gastronomic, visual and in some cases aural experience to be remembered and, hopefully, passed on to their friends such that even more customers can enjoy the warm atmosphere of "La volpe all'uva" restaurant.