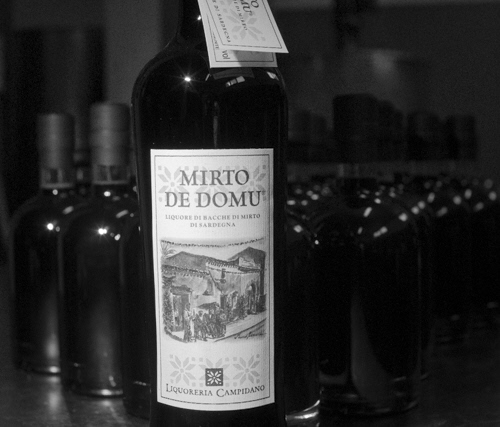 We went to the village of Simaxis in order to visit a liqueur producer called Campidano and being run by Ms. Dessì. Although she was busy preparing myrtle liqueur, she was very hospitable and helpful. This enterprise was started by her husband, Luciano Dessì, to advance the local traditions, paying attention to using ingredients of prime quality and working manually as far as possible. This was how the women of Simaxis made liqueur at home (domu in the Sardinian language) and from which has been drawn inspiration for naming their myrtle liqueur "Myrtle of Domu" or "Mirto de Domu" in Italian.
In fact, the women of Simaxis used to collect herbs, flowers, roots, berries and leaves according to the seasons and they used to make liqueurs which were usually consumed during important holidays. Like them, paying attention to detail and using prime quality ingredients, Ms. Dessì produces liqueurs with the same colours and intense aromas.
Using old recipes, three varieties of myrtle liqueur are produced: Mirto De Domu, Mirto Mèzusu and Mirto Bianco, all of them obtained by varying the amount of myrtle in relation to the amount of alcohol. Other liqueur products include Filu' e Ferru, which is made from the remains of grapes or other fruit that have been pressed for wine-making, Limoncino and Creme di Liquore.
Making myrtle liqueur starts with buying myrtle berries from professional pickers, then impurities are removed and the remaining berries are cleaned. Afterwards, they are put in stainless steel tanks and filled with an alcoholic solution forming an infusion, which is left in peace until it has an alcoholic percentage of 36. Water and sugar is added to the infusion and being stirred continuously, then the liqueur is filtered in order to remove any remaining particles. The resulting liqueur is analysed in a laboratory, and if approved, it is bottled and labelled manually. These liqueurs are made without using any additives, flavours or colorants. Moreover, the production is performed at a low temperature in order to preserve the naturalness of the taste and the intensity of the aroma of the myrtle berries.
All the products of this producer are sold at high quality wine shops and restaurants, hotels and in shops which require products of prime quality.
Our visit was finished with having a look at their small exhibition of their liqueurs in designer bottles, some of them ceramic ones decorated by hand, others covered with elements from Sardinian crafts like woven cloths and cork.
Before leaving, Ms. Dessì generously gave us a precious bottle of the exquisite liqueur of myrtle.