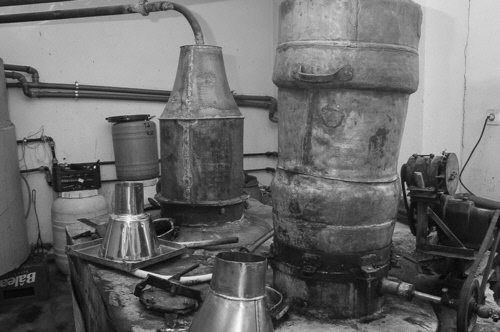 We met Mitru Stan in his distillery, which looked like it had been set up in a closed-down factory. Entering his distillery, the first things I noticed were some big cylinders made of copper, from which protruded tubes which were connected to two huge horizontal metal cylinders. There were also one electric motor next to each copper cylinder and they were probably meant to drive machines which are extracting the juices of the fruits he's adding to his brandies.
He first bought three distilleries in the village of Brateiu, which is renowned for all sorts of copper objects made by local coppersmiths. He brought all the equipment to the village of Sadu where he lives and adapted and improved the boilers. The two huge cylinders were used for cooling and they had originally been used as water pipes. Actually, he finished all the work in one month, no mean feat.
He makes plum brandy, wild pear brandy and cognac. Buying brandy to an old, knowledgeable Saxon man in the village of Garbova in Transylvania, he managed to get the recipe for cognac from the probably inebriated Saxon.
He has his own plum tree orchard and he buys wild pears from an orchard owner in the village of Marpod.
He was very upset when he was talking about the tax he has to pay. He has to pay about 60% tax if he is producing more than 50 litres per year. If he is producing only 50 litres, he has to pay half that amount. His distillery is sealed by the authorities and he has to ask them to remove the seals when he's going to make more brandy. Besides himself, the locals from his village also uses his distillery.
Mitru sells his products especially from his own shop, but also at different markets in Sibiu.