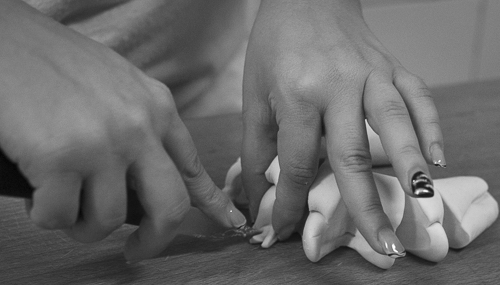 Islands are known to house plants and animals, which don't grow or live anywhere else. That is, they have a large biological diversity. A corollary to biological diversity on islands is cultural diversity on islands and the bakery "Su Forru 'e su Pani" of Efisio Carta located in the town of Teulada in the south of Sardinia seems to confirm it.
We enter the "Su Forru 'e su Pani" bakery about 9 in the evening where the Carta family, consisting of Efisio, his wife Assunta, their daughter Debora and her young daughter Vanessa together with a baker called Angelo, are making a bread called "su coccoi pintau", turning dough into shapes like hedgehogs, flowers, crowns, etc.
Working from about 8 in the evening till about 6 in the morning, dozens of breads, bread rolls, and ritual breads, like coccoi, originally made for the most important religious feast days are made 6 nights a week. They also make a ritual bread called "the bread of the dead", a fragrant, soft bread in memory of the dead to be shared with friends on All Souls' Day, 2 November.

Coccoi is a typical Sardinian bread made for anniversaries, ceremonies, weddings, baptisms, and Easter. Making this type of bread require, after having quickly turned the dough into a complex shape by hand and a knife, a rapid sequence of cuts with a pair of scissors at predetermined points and with regular positions. Although these cuts are made for decoration, they also contribute to uniform baking, graduated surface colours with more or less intense nuances, and making the bread crunchy.
Little Vanessa, who is only 7 years old, is turning dough into complex shapes, deftly using her small hands. Her grandfather, Efisio, also started working in a bakery when he was a child, imitating the movements of his mother and grandmother. Originally, only women were baking in Sardinia, but now it seems like more men than women are working as bakers.
They also make a round and soft bread called "Sa Tunda", which is typical for the town of Teulada. It's a sourdough bread made from semolina shaped like a star with 7 points, one for every day of the week in order to mark the time between each time a bread was made. Another explanation is that it was baked by women whose husbands should spend a week in the mountains and they could eat one point every day.
At midnight, when only Efisio and Angelo are still working more or less continuously, manipulating, stretching, rolling, cutting, decorating, and flattening dough, marking their products with a stamp and putting them on a wooden board, covering them with cloths and letting them leaven in peace, putting the finished shapes in an oven by means of a long-handed shovel, taking them out when they are baked, putting the necessary ingredients in the kneader in order to produce more dough, etc. Briefly, they are working hard.
While Angelo is working quietly, Efisio is working dexterously and quickly, while talking at the same time. He has been working as a baker for about 40 years and he started making breads when he was 12. While he is busily shaping the dough, he is talking about how he is canoeing, fishing squid, and making stone statues of local rocks in his spare time. Thus, he's shaping dough at work and stone off work like a sculptor. He also looks younger than his age and he's obviously full of energy, mental and physical.
We leave some time after midnight and come back next morning, enter the shop next to their bakery, where Debora, the young daughter of Efisio and Assunta is selling the last "breads of the dead", while the rest has already been sold.
Only the the fragrance of the breads is remaining together with a feeling of a pleasant expectation because tomorrow the shop will be full of other fragrant delicacies.