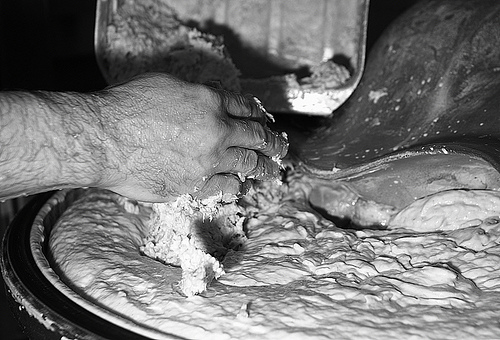 Although butchers' and fishmongers' shops are rapidly disappearing being replaced by supermarkets, Høvikveien fish and meat is still going strong. Products made in their own kitchen and being served by somebody who has worked there for ages, give rise to memories of my local butcher's shop in Italy. Conviviality, hustle and bustle, and passion for genuine food is enough to cheer me up.
We went to visit the above mentioned shop on a Wednesday afternoon, a day which seemed like the big fish cake day for the locals. The customers were queuing for freshly made fishcakes having been made next to the shop, many of them just indicating how many by raising the corresponding number of fingers. Being a language understood by both buyer and seller, it seemed like no misunderstandings occurred.
Høvikveien fish and meat was founded as a grocer's more than 60 years ago, but turned into a combined shop with a sausage makery, a smoke room and a salt room, the last ones for meat preservation. Nowadays, the shop is managed by Thore Nilsen and Alice Sæbø, while Justina and Joseph Chipala are in charge of cooking, sausage making, etc.
The specialty of Joseph is Polish sausages, having a much coarser consistency than machine-made sausages, which have a quite fine consistency. Joseph is also responsible for making Italian sausages, Greek lamb sausages and lamb sausages with chili, all of them tasteful, with a distinctive stamp and without preservatives. If you have a recipe for a particular type of sausage, you can bring it to Joseph who will make them in accordance with your recipe. Joseph's meat grinder has a capacity of 20 kilograms, meaning that after having given him your recipe, you can invite friends to a real sausage party where everyone can savor the taste of home-made sausages.
The counter contains lots more than sausages, though, like home-made fish au gratin using a recipe of Mrs. Schønberg Erken, a woman who taught Norwegians how to cook and enjoy food in the first part of the 20th century. In addition, they also sell salads, cured meat, cold cuts, stuffings, pastes, and so on. all of them having been made by Joseph and his wife.
Opening hours: Tuesday to Friday from 10 a.m. to 6 p.m., Saturday 10 a.m. to 3 p.m.
Contact information: Phone: 67 53 47 37 Mobile: 91 66 80 91