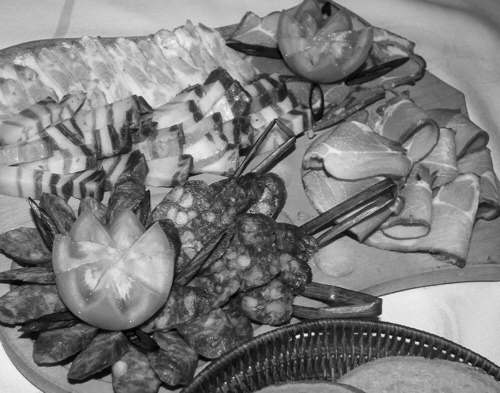 We met Ioska in his own restaurant being located near an abandoned salt mine, but after parts of it collapsed, the former hill above the mine has been replaced with a lake with tourist facilities nearby. In fact, Ocna Sugatag was an important salt mining centre from the 14th century onwards; and the salt from the mines was brought by raft down the Tisa river and then on the Danube river.
Being generous like lots of Romanians, we got a wide selection of his meat products together with water and the obligatory local spririts.
Talking to my guide, he said that his father was a butcher and he has carried on the family tradition. He also has his own farm where he's raising pigs, sheep, cows and buffaloes, ensuring a steady supply of fresh meat, but he also buys meat from other producers.
His products include 15 types of sausages, of which the most popular are kishka, a blood sausage using pig's intestines as a casing and filling it with pig's blood and various grain stuffings.
Ioska smokes his meat products by means of wood shavings from beech, plum trees, and hornbeam. For salting the meat, he leaves it in salt water for 2-3 weeks, then smoking it inside for 2-3 days.
He's selling his products in Maramures, and at various fairs in Romania. He's working on introducing a variety of prosciutto, a type of dry-cured ham, using a secret recipe from his father.