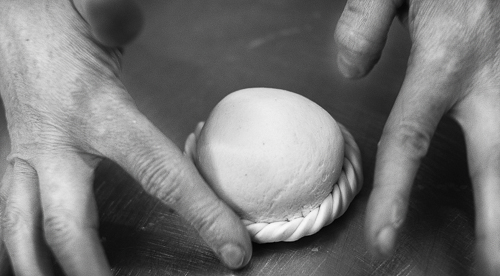 The confectionery of Rossella Pais is a small, traditional and family-driven business.
Due to the foresight and hard work of Rossella Pais, her small confectionery has been promoted to "Comunità del cibo", which is the first step on the way to being recognised as a presidium. She has succeeded in resurrecting an ancient tradition among the families of Usini, meaning the making of "Andarinos", a type of pastry with a helical shape which was prepared for consumption at religious festivals and ceremonies. The name Andarinos means a (baby) walker (a mechanical device where toddlers could make their first steps without tiring their legs and in which they could move around safely remaining in a protective structure).
Andarinos has been described in documents dating from the Spanish rule of Sardinia (the 1300s/1400s), but they are surely even older. There is no mention of Andarinos anywhere else in Sardinia, meaning that they have only been produced in Usini.
Andarinos have a helical shape with a pattern of lines on the surface. These characteristics are the results of operations requiring a high level of manual dexterity together with a meticulous care as regards cutting up the correct amount of dough for making an Andarino.
Quick, secure and light motions executed in rapid succession seems to anticipate the rituals of the feasts and ceremonies to follow the making of these pastries when invited guests will be able to snack these delicacies.
After having mixed and kneaded bran of durum wheat with water and together with some salt until the paste is homogeneous, small pieces of pastry are cut off, which again are cut into even smaller pieces shaped like a short pencil. Then, the confectioner rolls every piece deftly with her thumb on a piece of glass, in which a pattern has already been carved, until it has a helical shape together with a line pattern due to the pattern on the glass plate. Then, the pastries are allowed to dry in the sun, weather permitting, in special, handmade baskets.
In fact, the confectionery of Rosella Pais have reintroduced this typical product to Usini, perpetuating a tradition passed on from generation to generation.
Other types of pastries made at this confectionery include Panadas (circular shape filled with pork together with garlic, salt, parsley and pepper), and a large variety of typical Sardinian pastries like Culurgiones, Ciccioneddos, Tazzolas, Filindeu, Seadas and so on.